I was so excited to receive my October edition of
Parents
magazine in the mail this past week and to have found a whole section on Halloween decor ideas and pictures. I just love the Halloween holiday. I traded in the traditional carving of the pumpkins for an
All Dressed Up
version. We picked out several different sized pumpkins this past weekend and decided to decorate our front door pumpkins with a variety of craft supplies and dress-up items. My oldest daughter and I spent the evening dressing our pumpkins. We had such a great time. She was so proud of her cute pumpkins and easily posed for a picture beside them.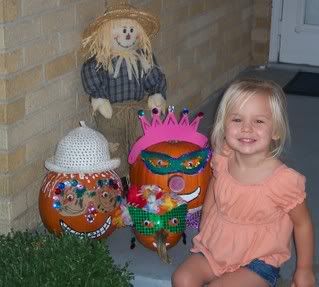 So tonight, I have been online browsing Halloween topic blogs. I found a Halloween Costume Giveaway contest on
http://twomomsinablog.com/
. "Twomomsinablog" has teamed up with Halloween Mart for the costume giveaway. Since I absolutely love the Halloween holiday, I just can't pass up this contest. Part of the contest requires me to pick my favorite costume from their site
http://www.halloweenmart.com/
. At first I thought this would be an easy task. I can't believe the selection of costumes and accessories they carry from infant/child -adult sizes. Now almost an hour later, I think I have finally narrowed it down to my favorite. Both of my daughters love Curious George and when I first saw this costume I immediately thought of them. My favorite is the MONKEY SEE TODDLER costume. Absolutely Adorable!
http://www.halloweenmart.com/wecs.php?store=halloweenmar&action=display&target=CH00089
If I were to be the lucky contest winner chosen to win the $100 gift certificate I would use it towards purchasing my husband and I's Halloween costumes for our 2nd annual upcoming Halloween party in October. I am thinking we would make a great pirate couple! Ahoy, Mate!