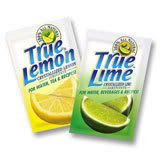 I just found out about a product that I think I am really going to love, True Lemon. These little lemon, lime, and orange flavored packets are made with 100% all-natural ingredients. They are a great alternative to sweetened drinks and flavored waters. They can also be added to beverages for an added flavor. I love a glass of water with lemon, but a lemon isn't always handy. I can pack these packets along with my workout water bottle to add a little extra flavoring.
Want free samples? I read about this deal on the
Money Saving Mom
blog. Anyone who blogs about True Lemon free samples and links to their free sample page can get 15 free packets of True Lemon, Lime or Orange for doing so. Just email them with the link to your blog post and give them your name and address. Oh, and you get to choose which flavors you want too!
The free sample page to link to is:
http://truelemon.com/gratitude-sample.html
And the email address to contact them is: customercare AT truelemon DOT com.
I can't wait to receive them in the mail! :)