Last Saturday, Wes and I took some time off from our hectic schedules to have our 2nd annual Halloween costume party. My sister graciously took the girls for the weekend so that we could clean and prepare for our party. It was so nice to be able to clean the house and 10 minutes later still have what I just cleaned up in place. Jaidyn and Addy were spoiled rotten by their Aunt Jill, so I am sure they didn't miss us anyways.
We had a great time at our party. This is a picture of Wes and I. This is Wes's attempt to be Johnny Dep from Pirate's of the Caribbean movie and I was a Rhinestone cowgirl which was the costume that I picked out from Halloweenmart.com after winning a $100 gift certificate.
Don't you just love the eyeliner? He does have pretty eyes! Ha!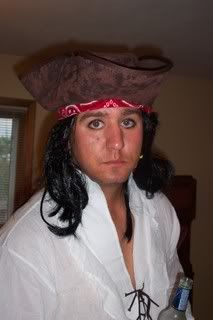 Some other guests attending the party included a Blood Sucking Attorney At Law, Chick Magnet, Billy Ray Cirus and his Girlfriend, Pimp and his Ho, Mr. & Mrs. Dracula, Cruella Deville, Lumber Jack, the Headless Horseman,a Witch, Data Don, Black Kitty, Redneck Dope Dealer and School girl Brittney Spears. Lots of costume creativity!
Here are some pictures of Jaidyn and Addy when they stayed with Aunt Jill. They visited two Pumpkin Patches and got to go to Chucky Cheese. Jared and Carrie and Cheryl all joined them at the pumpkin patches. They especially loved bathtime with their bath markers. I thought the whole idea of taking a bath was to become clean.