Over the past few weeks I have been slowly decluttering our home in attempt to get a head start on collecting items for our garage sale this spring. It seems like I have all the time in the world to get all the items no longer needed cleared out of our home, but before I know it the week of the garage sale is upon me and I never get the chance to really deep clean all the rooms in our home like I had hoped. After our garage sale I find many more items that I wish I would have put in the sale. This year our garage sale is a fundraiser for our adoption and all of the proceeds will be going into our adoption account. I am extra motivated to go through each room and part with all of the toys, clothing, movies, and home items that we no longer need.
To help motivate myself and stay on task, I have joined in the spring cleaning challenge over at
Motherload: The MomAdvice.com Blog
. Each week one room of the house is chosen and tasks are divided into one hour cleaning jobs for each day of the week. Checklists are given for each day of the week concentrating on the room of-the-week.
This week, the focus room is the bathroom. On Sunday evening, I printed off the task sheets. Wes woke up Monday morning for work and was so excited to see the
checklist
sheets sitting by the computer. He admitted later in the day that he was hoping to come home to a sparkling bathroom.
Luckily Monday was a rainy day, so I had no problems motivating myself to get started. I started by pulling out everything out of the drawers and cabinets. I threw away everything that was expired or that I hadn't used since we moved in to the house almost 3 years ago. I didn't think our cabinets were too horribly cluttered but I still managed to fill a 13 gallon trash bag full.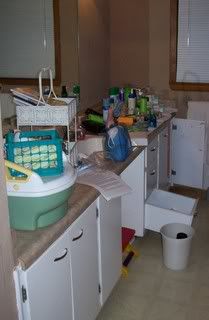 I completed all of the 1 hour tasks within two days. Once I get started on a job, it is hard for me to stop. Tuesday was another rainy day and Wes was off work so he helped entertain the girls so I could finish. Ta-Da! Here are pictures of the sparkling clean bathroom. To treat myself for completing the task, I bought the organizers for the bathroom cabinets and new bath mats.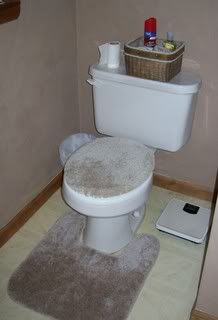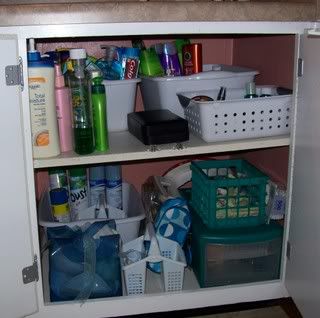 If you need any spring cleaning motivation, head on over and check out
Amy's blog
.